Staff
Kelly Rossman
Interim Executive Director & Director of Human Resources
Kelly has served the GVA communities as our Director of Human Resources for the last two years and has quickly established a reputation of fairness, professionalism and and commitment to Global Village Academies. During her time with GVAC, she has developed a deep understanding and passion for education. With her International business background, she understands, firsthand, the impact that language development has on the business world. She is excited to lead the collaborative, support principals and staff, and continue learning about the intricacies of education.
In previous roles, Kelly has been a Human Resources practitioner/manager for 20 years in industries including automotive, healthcare, IT, environmental engineering, and B2B marketing. International HR is a long-time passion of hers, as highlighted by her Master's degree from the University of Denver in Global HR Management. Kelly considers herself a lifetime learner and is a strong proponent of education, both formal and informal.
Outside of work, Kelly enjoys listening to a wide variety of music, attending local concerts, and experiencing the great culture and outdoors of Colorado.
Position Open
Director of Finance & Facilities
Alicia Macica
Director of Teaching and Learning
Alicia has worked as an educator for over twenty years in Colorado and Arizona. For the past nine years, Alicia has been working in the Poudre School District as an English Language Development Instructional Coach at Eyestone Elementary, a district MTSS Coordinator, and most recently, the Elementary Literacy Facilitator in the Curriculum, Instruction, and Assessment Department. Alicia has experience in teaching at the elementary level in Kyrene School District. She also has experience as a middle school language arts teacher and ELD teacher in Chandler Unified School District.
Alicia earned her Bachelor's Degree in Elementary Education from Ottawa University, holds a Master's Degree in Educational Technology from Northern Arizona University, and is currently finishing up another Master's Degree in Educational Leadership and Administration certification at the University of Wyoming. In 2006, Alicia achieved her National Board Certification in Early Adolescence-English Language Arts from the National Board of Professional Teaching Standards and successfully renewed the certification in 2016. Her expertise includes early childhood and K-12 literacy, curriculum and instruction, English Language Development, systems change efforts, MTSS, READ Act implementation, design and evaluation of professional development, Cognitive Coaching, and building teacher leadership and capacity.
Alicia's deep passion for education is grounded in the belief that all students have the right to an exceptional education. As a lifelong learner, Alicia strives to keep up with best practices in instruction and supports educators while applying these strategies in their classroom. Alicia is passionate about fostering teacher efficacy and building capacity among educators.
Alicia and her family moved to Colorado in 2009. She and her husband have 2 children, ages 9 and 10. Outside of work, she enjoys spending time with her family, traveling, scuba diving, listening to music, reading, and camping.
Laura Smallwood
World Language Specialist
Laura was born in Romania and moved to Germany when she was 4 years old. There, she grew up in different cultures, speaking three languages. Later on, she learned four additional languages. She attended the University of Braunschweig in Germany and holds three masters (English, Philosophy, and Education). She has lived the in Denver since 2003 where she has continued to enhance her learning about new language and cultures.
Laura believes that giving students the opportunity to learn multiple languages not only is an important step to opening their doors to new career opportunities but also paves the way to building a better world. Learning new languages builds an understanding of different cultures and communities. By doing this, we learn how to be tolerant and celebrate diversity. In her home, four different languages are spoken.
In her free time, she enjoys eclectic music, spending time with her family, cooking for friends, and being active. Traveling and trying new foods are always on the list.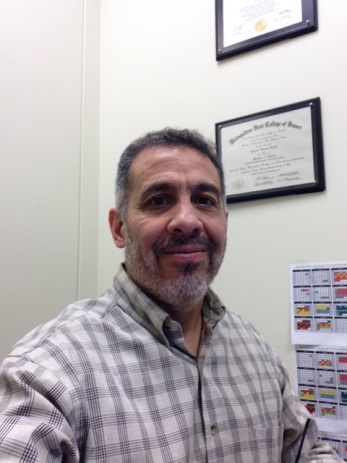 Chuck Carillo
IT Director
Chuck Carillo is currently employed as the IT Director for Global Village Academy Collaborative and Academies and leads a small team that supports the three Global Village Academy Charter schools throughout Colorado. Chuck has been in the information technology field since 1998 and received his Masters of Science degree in Information Systems from the University of Colorado Denver in 2012. He has been providing IT support for Global Village Academy K-8 schools for over five years. Throughout his information technology career, Chuck has worn many hats and has a well-rounded background in providing superior customer service and technical support for a wide range of users. He worked in his previous position at Adams County Government for over 15 years.
Chuck is a Colorado native and he and his wife have 3 adult children and 4 grandchildren. Chuck is an avid runner and has completed over 50 half marathon races. He also enjoys mountain biking and reading.
HR Administrator
HR Administrator
Kim Price
Kim has a wide arrange of skills in Office Management/Facilities/HR Coordination; with a focus on being proactive and attention to detail. She is a self-starter with a can-do attitude and a great sense of humor. She is passionate about learning and comfortable wearing many different hats.
Some of her proudest accomplishments are helping and coordinating many corporate relocations for offices of 300+ employees. She possesses exceptional knowledge in space planning, organizing events, large moves, HR Operations and Office Management.
She received her Bachelors Degree in Art at Metro State College in Denver.
In her free time, Kim enjoys spending time with family. Photography and music are big passions of hers. Born in Wisconsin, she is also a huge Packers fan.
Finance Coordinator
John Delacruz
John is a proactive professional with more than five years in public accounting. Specifically, he has simultaneously assisted clients and businesses with instituting accounting policies and procedures for comprehensive performance analysis, budgeting, and tax preparation in multiple states. Relating to his education, attaining a bachelor's degree with two majors in finance and accounting, has given him the opportunity to specialize in business management. Moreover, he currently attends the University of Colorado and is pursuing an MBA and CPA certification.
John moved to Denver in December 2017 to pursue his MBA degree and since has decided to make Colorado his permanent home. In his spare time, he likes to trek and mountain bike with his red and white husky named Sedna. "Outdoors" is his middle name, and staying in shape is his motivation.
Lastly, Mr. Delacruz is a decorated veteran of, both the Iraq (2007) and Afghanistan (2011) wars. He proudly served our country during times of conflict, and simultaneously competed in and won two soldier boards: Soldier of the Month, and Soldier of the Quarter.